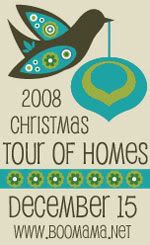 My intention was to join in the fun over at
BooMama's Christmas Tour of Homes
yesterday, but that didn't happen! And now, with over 700 people participating in the fun, I decided I might just as well, because people will be touring homes for DAYS! Go! Check it out! AFTER you look at all my pretties!
Welcome to our home! This is what you will see as you come in the front door. I love Nativity scenes. It is the Reason for the Season!
The Holy Family
Turn to your right, let's go to the Living room. Another Nativity, a little "fancier" version.
A close up of some of the ornaments on our tree. There are two Turtle Doves we found in Branson last week. My favorite color is Blue, and this is the third year that I have done this theme. I Love it! The ornaments are clear, blue, silver and a few touches of gold. Snowmen are a favorite of ours, and you will see several cute ones on our tree.
Isn't this cross pretty? There are lot's of one-of-a-kind finds on our tree too!
It's not a great big tree, but I think it is beautiful!
Let me take you out to the Family Room. This is our Toyland. Here is our Rudolph Collection we started a few years ago. We started with the little Enesco figurines, and we can't find them anymore. Last year while we were doing our anniversary shopping extravaganza, we spotted the Jim Shore figurines and nearly flipped out right there in the store. I love that the carvings are quilt patterns, Larry loves that they are Rudolph! I have them in our TV cabinet for now, most of the time they are in my curio cabinet for safe-keeping.
The rest of the story...
I have really struggled with this garland. I saw
this post on NestingPlace
and was totally inspired! I was going to create the most beautiful garland. EVER. And I did. And then
this
happened. We put bigger hooks up and it appeared all was well. It crashed again. My friend loaned me these awesome brick clips, but the mantle was created by laying a row of bricks straight across, and the bricks are just a little taller than the clips she had. Long story to say I scrapped the whole deer-antler garland because they are just too heavy and bought fake berries and stuck in instead. It's okay. I'll be fine. Really.
My collection of Santas greet you when you enter the Family room.
Let's look in our bedroom! Remember when I showed you
how to make this
? For Christmas we found these cool glittery leaves and "berries" in gold and bronze. Larry actually spotted them first, and we both thought they would look very cool with the copper. I like how it turned out.
I found this guy at
The Nester's Etsy shop
. LOVED him! Ignore the phone please! He looks really nice hanging from the switch on this lamp beside the bed.
LOVED him so much I got him too! I didn't want to leave Larry out! This guy is HUGE! He's as tall as the lamp. Don't those Tums look nice...
Our tour is almost over for now. This is the other corner of our room.